BYU physical chemistry student Joshua Washburn receives outstanding poster award
May 3, 2023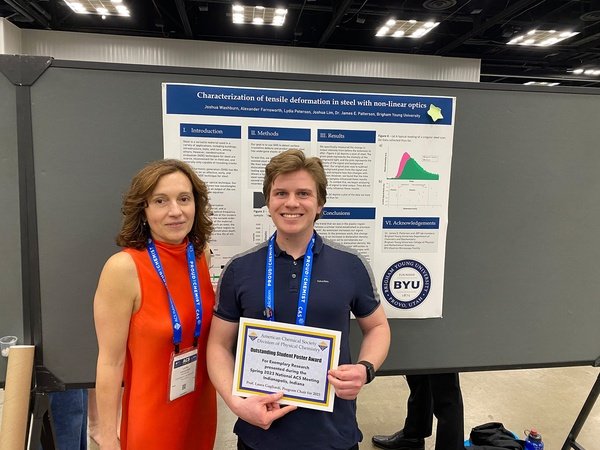 Joshua Washburn, BYU student of Dr. James Patterson, recently received the outstanding poster award at the Spring 2023 American Chemical Society Physical Chemistry Poster Session. The competition, held in-person in Indianapolis, Indiana, featured research posters summarizing student work from around the United States.
Washburn's poster, featured in a picture below, describes his research, entitled "Characterization of tensile deformation in steel with non-linear optics." He was among the eight students who received an award of achievement for excellent research and explanative display.
The members of the BYU Chemistry and Biochemistry Department, faculty, and staff wish to congratulate Washburn on his exemplary achievements and thank him and Dr. Patterson for their contributions to the BYU Chemistry Department, as well as the scientific community as a whole.