Healing Water, Healing Earth, Healing Self: A Discussion with Master's Student Emmanuel Agbata
March 8, 2023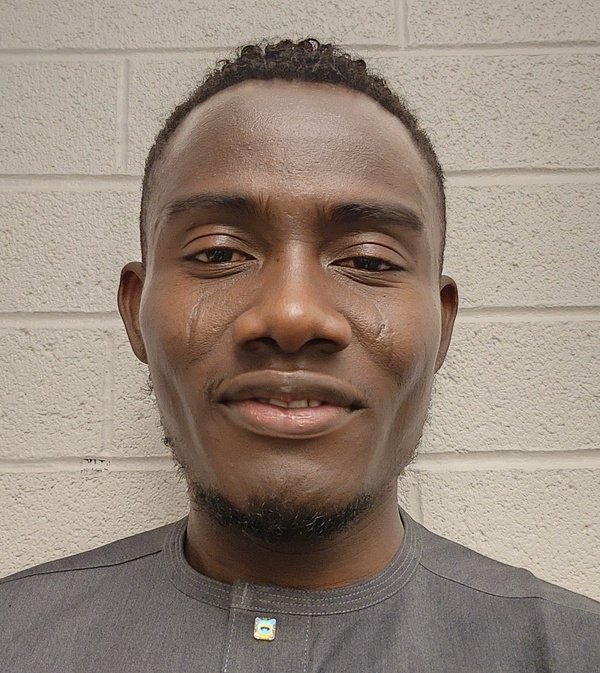 Emmanuel Agbata, B.S., is a current master's student at Brigham Young University studying inorganic chemistry. With an undergraduate degree from the University of Benin in Nigeria, Agbata is passionate about making the world a cleaner, better place; and, with his current research and plans to graduate this year, he's on the path to doing just that.
However, Agbata wasn't always interested in chemistry. Originally planning on pursuing a medical degree in Nigeria, Agbata explains that barely missing the cutoff for his particular school of choice offered him another opportunity. "[It] gave me a second chance," he says. "After the first semester of the first year, I found that this is actually what is made for me…When I got into chemistry, it was interesting. I was able to relate to some of the things and learned [that] the hard parts make sense with time and studying. After that, I'm like, 'Okay, let's take this to the next level,' and that's why I'm here." 
After a rigorous search for a graduate program suitable to his needs, Agbata settled on attending Brigham Young University, receiving a full-ride scholarship. He now studies as part of the Stowers Group, exploring the implications and research fields of inorganic chemistry.
When asked what makes inorganic chemical studies unique, Agbata has a simple and clear answer. "Inorganic basically explores every other element in the periodic table besides carbon," acquiescing that "some inorganic things can still have carbon in them, but those that are not classified as organic compounds - the ones that have mostly carbon and not hydrogen and oxygen bonds - that's where inorganic is focused. So, usually most of the things we deal with [are] the transition metals because we work on catalysis, so inorganic [compounds] have transition metals in them; usually the oxides of transition metals. We use them to make [and] explore some of the applications in many areas: catalysis, semiconductors, and all of that." 
These semiconductors and catalysts are critical in lowering the activation energy and thermodynamic parameters that kickstart essential chemical processes in manufactured science, human body systems, and the ecological world. With different catalysts pairing to different reactions, Agbata says that understanding the creation and testing of inorganic catalysts holds crucial implications for nearly every aspect of human life.
In this vein, Agbata and his colleagues, under the direction of Dr. Kara Stowers, have been experimenting with the creation of MOFS, or Metal Organic Frameworks. "You have these transition metals," Agbata explains, "so we make a…highly crystalline structure that is made of a metal center." This metal center is usually composed of transition metals, such as copper or zinc. "So, this metal center is coordinated to ligands. Ligands are organic molecules, like dicarboxylic acid and a host of others." Agbata and his fellows contain these ligands, metal precursors such as salt or salt of zinc, and use their instruments to create a new MOF.
Why are MOFS important? Agbata understands the complexity of the process. "So, why do we care about them? They are very porous. They have high spaces in between, and it coordinates to form a very ordered structure. They can be used for chemical sensing. They can be used for gas storage, for sequestering, and for cleaning up the atmosphere. You can use MOFs to reduce the amount of CO2 in the environment. So, what my project is about right now is more on the catalysis part." He explains that his current research focuses on creating what he calls "DMCAV MOF5," creating pyrazole ligands to form crystals with zinc. "We make a thin film of this MOF on a substrate - the substrate we're using right now is silicone - and then we image them. Then, we try to apply them in catalysis, heterogeneous catalysis, either in the decomposed form or normal form. Because of their high porosity and very high surface area (both internally and externally), you can use them as catalysts." He explains that their unique properties are a significant improvement to catalysts already available, thus having the potential to interact with more reactions with increased efficiency.
Agbata and his team are already working on ways to implement this unique catalytic structure. Currently, their studies include using an ultra-high vacuum to eradicate pressure in a small chamber, allowing them to better test and collect reactive results. They have also been experimenting with the creation of reactive formaldehyde, discovering new ways in which this process and MOF technology interacts with ultra violet analysis using photo degradation. And, as it turns out, this method may have revolutionary implications for the future of ecological science.
"We're trying to look at how we can use this MOF as a catalyst to help in breaking down some of the contaminants in water, so it can be used, in this situation, for water purification. You have dead water, you bring these catalysts via the photo degradation process, [and] it breaks down all of the toxins in the water and makes it reasonably pure again." 
Contaminated water is a global issue. "You have a bunch of sources where you can get dirty water," Agbata explains, specifically mentioning sewage system networks as a major contributor. His group plans on collecting samples of contaminated water and conducting an in-depth analysis to understand the quantity and quality of bacteria and contaminants. Using MOF photo degradation, his team will reexamine the water samples to determine the elimination percentage. Should his method succeed, this kind of technology can also be used to clean up airspace with high levels of CO2. 
"We interact directly with our environment," Agbata says, "and the way our environment is, how our environment affects us, has a way of influencing us, whether adversely or beneficially; that is why we talk a lot about green chemistry, sustainable chemistry. The way that I think my work can affect or help heal the world, heal the people, is by just looking at what MOFs can do for the world. You have this MOF helping with photodegradation with basically detoxifying the water, one of the most important parts of our environment. Then, also, CO2 sequestering; it's kind of like cleaning up the atmosphere." And, Agbata reasons, having a healthy planet will lead people to experience healthier, happier lives. "If you have good, clean water, and you have a good atmosphere, people can breathe in good air; we have less toxicity in the environment. I think that's a good way of preventing issues that might come up; it's like a proactive way of healing. When all of this is applied, you don't even have to talk about healing because you're going to be healthy if the result of our research is applied to the world."
Despite his hopes and goals for making the world a greener, healthier place, Agbata has experienced personal setbacks. He discusses the sacrifices all graduate students make as they pursue a further education, often leaving home, giving up time for rest and hobbies, and the technicalities of finding sponsorships. "If you want to do this," he says, "then be ready to sacrifice for this, and know that when you put in the work, you are going to definitely get better; you are going to matter in the work…You have different ways of impacting people - whether directly or indirectly - and even the world. It's an amazing journey, but it takes effort, and sacrifice and time. You have to be ready to do it, and know you want to do it." 
Remembering his purpose, motivation, and personal conviction for learning has helped Agbata push through times of difficulty, exhaustion, and creative block. "But then you look at, 'Oh, this is where I'm coming from, this is who I am right now, and this is where I want to be. Let me just keep pushing.'" His advice to students? "Nothing is easy, so for you to get something good, you have to work for it. And, the way life is structured is that once you work for something, even if you don't get exactly what you were looking for, you're going to get something probably better than what you were looking for. It's just basically about purpose; find you repurpose, and go get it. Every other thing will follow suit."