Revolution in an Honors Thesis
Dec. 8, 2020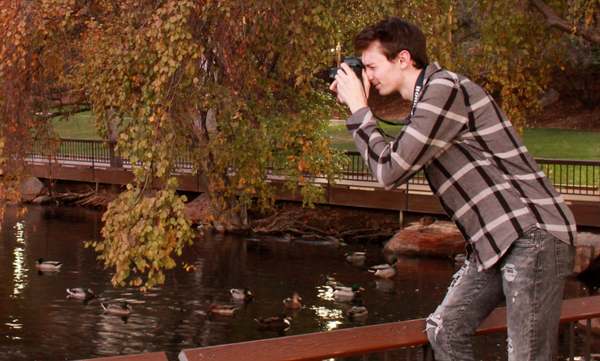 As if ending the waste and energy crises weren't enough, BYU student Skylar Van Horne's Honors thesis describes a potential fix for world hunger, too.
Van Horne bases his thesis in research he accomplished with the BYU Chemistry Department's Hansen Green Group. The Green Group seeks to harness bacteria breakdown and gas production, i.e. the process that occurs in swamps: bacteria break down waste and produce methane gas. The Green Group wishes to apply this process at a larger scale. Specialized bacteria could break down human-produced waste and release it in the form of methane gas, which in turn serves as an ingredient for crop fertilizer. Thus could the global waste, energy, and hunger quandaries be resolved. "Yes, that's three birds with one bio-chemo-mechanical stone," said Van Horne.
Senior undergraduate Van Horne titled his thesis "Biological Pretreatment of Biomass for Enhanced Biogas Production" and in it focuses upon the ability of certain bacteria to prep waste for breakdown . . . or, as Van Horne puts it, the ability of bacteria to "pre-chew" waste. Van Horne's thesis will be published this December, at which time Van Horne will also graduate with University Honors and bachelor's degrees in Biophysics and Chemistry.
This topic was thoroughly canvassed by the BYU Honors Department. Their article may be read here.
Pictured in the photo is undergraduate student Skylar Van Horne. This photo was retrieved from the BYU Honors Department.