Lavender Lin - Finding the Bridge
July 10, 2023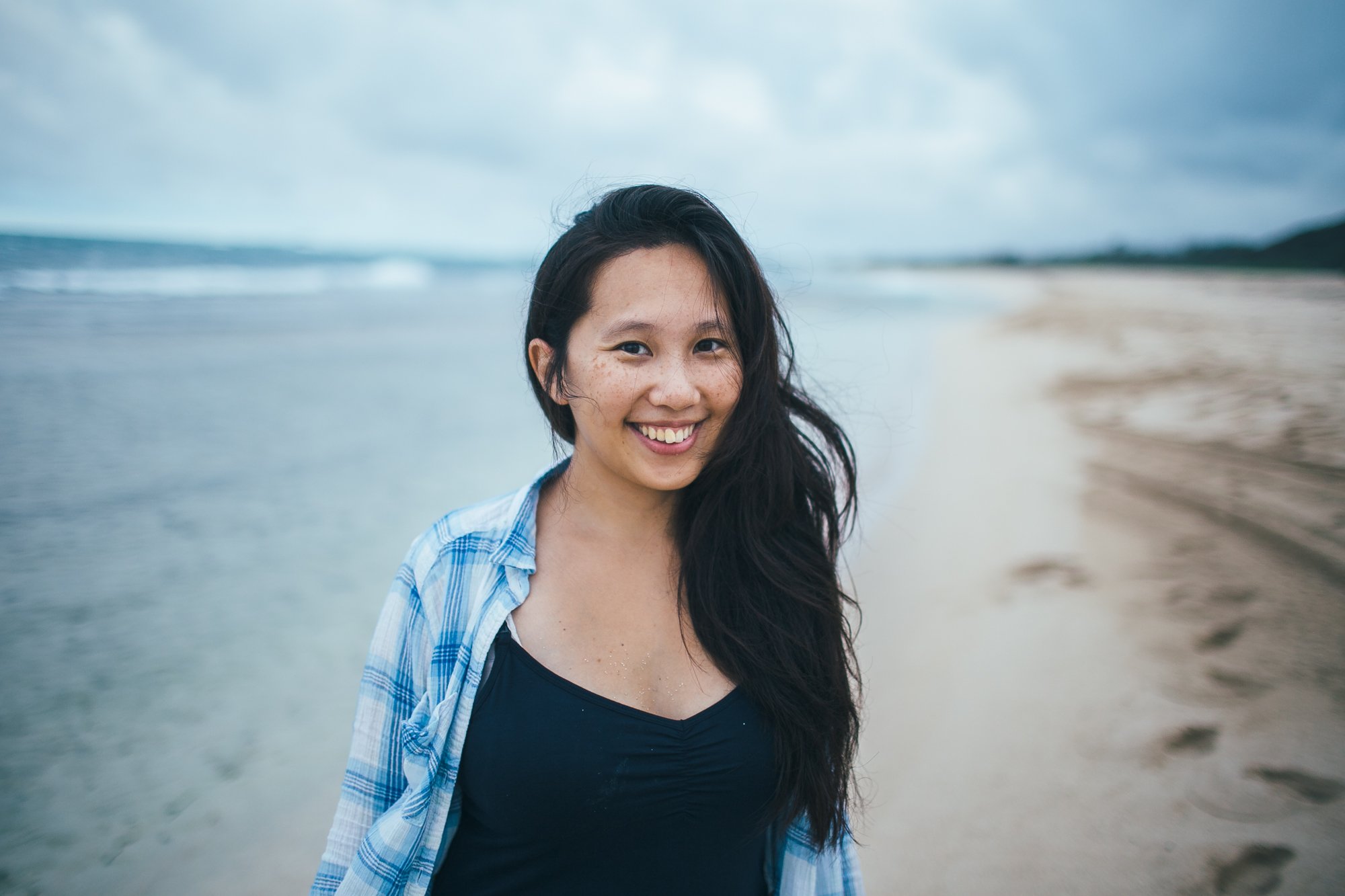 PROVO, UT - At a glance, the world of herbaceous Chinese medicine shops and the stark cleanliness of a chemical research facility seem to have little in common. Dr. Hsien-Jung Lavender Lin - mother to 3, postdoctoral proteomic researcher at BYU, and one of Utah's top 30 women of 2023 - is hoping to change that.
Lin was born and raised in Taiwan, and her mother worked at a health clinic, using Chinese medicinal principles and theories to help treat her patients. "It's shaped everything [that makes me] who I am right now," Lin says, "growing up seeing her healing a lot of people, treating people with terminal disease and infertility, people who are desperate. Well, they're out of resources. So, they look[ed] for means to be cured, and they found it. My mom was able to bring them hope. I always wanted to be somebody like her."
While Lin's childhood dream was to be a Chinese medicinal doctor and follow in her mother's footsteps, her studies in biochemistry at BYU Hawaii led her to pursue a graduate degree from BYU Provo, where she received a full-ride scholarship and stipend funding for her chemical research. Her ultimate goal is to use modern scientific methods to prove the validity of ancient Chinese medical practices - and study how they can improve human health. "Biochemistry will look at the body on a molecular level, how [systems] work and go together, and Chinese medicine also has really [rich] theory," she says. When describing the interactions between holistic and modern medicine, she reasons, "It is the same human body; it must just be a different way to describe one thing, and I want to find that bridge." Finding the connection and support between biochemical study and Chinese health practices, Lin says, is what drives her forward in mastering both fields and better explaining their overlaps. This desire to learn and connect her cultural past with the future of nutrition and medical advancements is what has motivated Lin to persevere through difficult challenges, including attaining her graduate degrees.
Now, Lin works as a postdoctoral researcher at the BYU Kelly Lab studying proteomics. "Although I'm not currently studying Chinese medicine, I want to master the field of proteomics, being able to explain things holistically. If you know anything about Chinese medicine it's a very holistic point of view of the disease, so I think there's a connection. I can use my proteomic [research] to try to find that. I believe [that] proteomics is driving personalized medicine with protein profiling and is the future of healthcare today." The Kelly Lab, headed by Dr. Ryan T. Kelly, is a biochemical research group that focuses on single-cell proteomics using mass spectrometry, a groundbreaking new form of cellular study that has gained attention and recognition from the scientific community over the past couple of years.
"I do single-cell proteomics. It's a kind of research that monitors all the proteins in existence in human bodies. It gives a better view on how all the proteins work together contributing to [a] disease." While much of the chemistry community uses mass spectrometry techniques to simultaneously evaluate a large group of cells with limited detail, the Kelly Lab has developed and implemented technology that allows researchers to rapidly examine the components of each individual cell in greater clarity. This technique allows for more accurate observations, tests, and treatment development. "We just scale it down a lot. The primary focus is on single cells, each cell, so we can look at a lot of cells, thousands of cells, and we can have a better view of how they're different.
Lin describes the difference between the two processes. "Traditionally, it's just like a blender. You build your smoothie and you have [an] apple, banana, strawberry; they're all different. But, when you blend it together, they are the same, right? You only see the average of them." With single-cell proteomics, however, one could examine that molecular "smoothie" and see each individual component, including its amounts. "The hope is that we can really see, 'Okay, yeah, we have the average, but within the average [we have], this, that, and that." This allows Lin and her students to analyze [more] sample quantities in greater detail.
Doubling as a mentor, Lin is able to pursue her research while helping educate the chemists of the future. "It's always better working in a team," she says. "I have just been in love with training students. I think it's a privilege, working with smart kids at BYU. They're already determined and they have a goal. People in our research lab, they went to grad school, they want to go to med school, and they're smart. I love to work with them and just guide them through how to become a researcher."
While researching and mentoring have been exciting trademarks of Lin's career so far, her time as a biochemist has not been free of challenges. As a mother of 3 young children, Lin has learned much about sacrifice, balance, and the pursuit of two dreams at once.
"For me, it's [about] not giving up on both," she says. "When I was a young woman, [the theme of] the era was teaching to the young women, 'Go pursue education, but pursue some major so you can stay home.' So a lot of people in my generation, they [went] into child education and family studies, something that will be really beneficial for raising a young family, but I just find more passion and talent in science. So, science is not something you can learn and stay home. I have to work in the lab."
"I went through a lot of struggle, mental struggle, like, 'Who am I and what is my value? Am I doing the right things? Is this what God wants me to do?' She describes attending the Church of Jesus Christ of Latter-day Saints, where parental roles are particularly valued, and feeling stuck in a constant cycle of self-doubt. "My personal revelation tells me I am doing the right things. I am pursuing science, but sometimes I feel like I am not the best mom. I cannot take them to all the different activities and I don't have the time that other mothers could to spend time with them."
Despite her doubts, Lin describes how she knows she is on the right path. "It has to go back a little bit to my doubt, and how I got a confirmation of 'I'm doing the right thing.'"
Under cultural pressure to refrain from a professional career while simultaneously learning of the importance of motherhood through church attendance, Lin felt conflicted. "I just keep wondering, if Heavenly Father wants mothers to [only] stay home as the stay home mom, why did Heavenly Father give us talent? We all have talent [in] different areas; some are really good at managing the household and are good with children, some are good with science' you can see [that] women are gifted in all sorts of different areas. If it is Heavenly Father's plan that women should all just be always at home nurturing the kids, I feel like He should probably give us all the same talents, like communication with the kids." "I am not the best at that one!" she laughs, "And you know, some mothers struggle being a mom because they don't have the exact talent that was perfect for raising kids, they struggle so bad, and I just [wonder], why?"
Lin remembers the raw moment where she had a shift in perspective. "I went to the Liberty Bell in Pennsylvania a long time and [I thought], "200 years ago [in the church], black people could not have the priesthood. It has changed now. It's not because God's principles change; it's because the world can finally accept the truth. And then, we all know that slavery is not good. Slaving is bad, but slavery [existed until only about 200 years ago]. And so you can see, God will choose to reveal piece after piece when we are ready. I think it's not "He does not want mother to be doing something amazing," I think it's just that [the world] is not ready to accept that fact that women can know as much and be as amazing as men are. But, finally, the time has changed and the [world] is more ready for that. And so, we don't have to hide ourselves." On being a mother, she says, "Being a mom is great. It's not just "satisfying" being a mom; being a mom is everything I want to be. It's not just being a mom! But, if you want to be something else, go for it! Nobody should stop you! The teaching, the voice of the church has changed so much from the time I [was young]. Just go for it, don't be bound by the culture. It's not gospel, it's the culture. Now there are so many things we can bring to our kids and then just ways that we can get our talents and family both together."
Lin's understanding is in perfect harmony with the doctrine of the church, whose current prophet, President Russell M. Nelson, says that "We need women who know how to make important things happen by their faith and who are courageous defenders of morality and families."1 Dr. Lin truly, then, is one of those courageous women.
"At the end," Lin says, "I learned that I am not giving up [on] both worlds. I am doing my best to be a mom. I am doing my best to be a scientist. I am not as excellent as any of the people that are doing them solo. I don't think I'm the best mom; I always have the doubt, I am never at the standard that I want to be, and compared to my peers, I am not publishing in Cell, Science , and Nature…Well, I'm doing. At least I'm doing it and I'm not giving up. I'm trying to do the best of everything that I can give."
Lin describes that being a scientist and a mother have been mutually beneficial, helping her be organized and focused at work while incorporating research and application of knowledge into the heart of her parenting. "I know that after so many struggles, I have a really sacred experience and confirmation telling me that I'm doing what the Lord wants me to do. I'm setting a good example for my kids. I'm telling my daughter that you can be whoever you want to be; you don't have to compromise anything that you want to be. [Outside of BYU], you need to choose career or choose family, but I don't think that is the choice that we need to make. We can do both."
"My students are happy, they are shining, they are smart, they are brilliant, and they have good thoughts about society. I'm not saying I'm great, but I just want to be out there telling [others], 'I can do it, and you don't have to worry.'"
With the receival of the 30 Women to Watch award, Lin is helping spread her message of perseverance, passion for science, and love of family. Speaking of the award, the Utah Business organization says, "The 30 Women to Watch awards honor the exceptional women of Utah's businesses. These recipients empower others and confidently lead their companies while adeptly navigating the challenges that come with womanhood, and their essential work does not go unnoticed. Utah Business is honored to recognize these women's efforts to start, manage, grow or otherwise further the work of their companies and make Utah's future brighter one day at a time."
Speaking at the awards ceremony, emcee Kim Fischer stated, "What a phenomenal group of women we've had the pleasure of honoring today. Ladies…there are little girls all over Utah watching you. You could be the reason a young woman runs for public office, or becomes a CEO. You are blazing a trail for the next generation of strong business women, and for that, we thank you!"
For Lin, humility and the knowledge that she's setting a good example are her motivators. "This reward…it is not about how great I am. It is about showing the little girls that they can pursue science - and anything they are passionate about - and be excellent mothers. They are the precious daughters of God, and entitled to everything they ever want to pursue."
With her conviction and talent on the limelight in a state-wide platform, BYU is confident that Lin will not only continue to bridge the gap between modern science and ancient medicine, but modern science and modern womanhood as well.
To see Dr. Lin featured in the Utah Business "30 Women to Watch" article, visit https://www.utahbusiness.com/utah-business-30-women-to-watch-2023/?fbclid=IwAR2ri6kGbIQ5WyRBBeQOJHYXvp8N494DJU5GZJp3m6hF7iHKvO2LvqXR9SI.
Note: BYU's Women's Services and Resources offers financial aid and academic support for student parents. For more information, please visit https://wsr.byu.edu.
Nelson, Russell M., "A Plea to My Sisters," October 2015, https://site.churchofjesuschrist.org/study/general-conference/2015/10/a-plea-to-my-sisters?lang=eng&adobe_mc_ref=https://www.churchofjesuschrist.org/study/general-conference/2015/10/a-plea-to-my-sisters?lang=eng&adobe_mc_sdid=SDID=4268247961A84475-0E7ACA3AC4AFD6F8|MCORGID=66C5485451E56AAE0A490D45%40AdobeOrg|TS=1688078709&v=V02